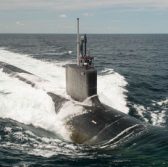 General Dynamics' Electric Boat business unit has awarded a BWX Technologies subsidiary a $35 million contract to develop and build Virginia Payload Module launch tubes for Virginia-class submarines.
BWXT Nuclear Operations Group will start the fabrication of the payload tubes in 2017 at its manufacturing facility in Mount Vernon, Indiana with the first delivery set for 2019, BWXT said Tuesday.
BWXT will be increasing the workforce by 120 at the Mount Vernon facility to take on the new manufacturing.
The VPM tubes will include four large-diameter payload tubes for a new hull section to be installed in Virginia-class submarines.
Peyton Baker, president and CEO of BWXT, said "We are excited to begin Virginia Payload Module fabrication work as we have been investing in our facilities to meet the needs of Electric Boat and the U.S. Navy in preparation for such an opportunity."