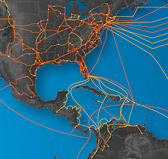 General Dynamics' mission systems business unit has started to offer direct fiber optic network connections for the company's universal secure phones.
Users of the new Sectera vIPer phone can plug into the fiber network without the need for converters, General Dynamics said Tuesday.
Mike Tweed-Kent, vice president and general manager of General Dynamics' cyber and electronic warfare systems line, said customers use vIPer to make secure and non-secure calls as well as transmit voice or data over the internet or traditional phone lines.
vIPer is designed to feature integrated security for end-to-end encryption and is certified to protect classified or top secret information and below when used with commercial networks.
General Dynamics built vIPer to be interoperable with U.S. government secure phones, Defense Department networks and commercial Voice over IP phones.
The company offers a trade-in program where users can replace previous vIPer phone models with new fiber-compatible units at a discounted rate.