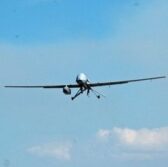 General Atomics' aeronautical systems business has begun flight testing an extended-range variant of the MQ-1C unmanned aircraft system at the company's El Mirage flight operations facility in California.
The company said Thursday the MQ-1C Gray Eagle Extended Range series is designed to increase endurance and payload capacity of the Gray Eagle UAS platform, which has recorded more than 300,000 flight hours since 2008.
MQ-1C ER will undergo flight tests through June 2017 and the U.S. Army will evaluate the drone in late 2017 as part of a second Follow-on Operational Test and Evaluation effort.
David Alexander, president of General Atomics Aeronautical Systems Inc.'s aircraft systems division, said the flight of the MQ-1C Gray Eagle ER UAS supports the continued evolution of the program with the company's Army customer.
MQ-1C ER is designed to operate for more than 40 hours and support attack, electronic warfare, intelligence, surveillance reconnaissance missions.