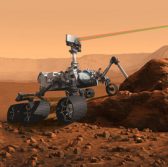 Member countries in the European Space Agency have pledged $11 billion to support  various space-related projects that include a mission to launch a life-seeking rover to Mars by 2020, Deutsche Welle reported Friday.
DW reported that about $465 million of the ESA's new space funding commitment will go to the ExoMars rover mission and the remaining money will be for Earth observation, rocket technology, satellite navigation, telecommunications and International Space Station programs.
The report said ESA seeks to continue the agency's efforts on the space station through 2024.
"This is a big amount of money for the future, it allows us to really go forward and covers all the different areas," ESA Director General Jan Woerner was quoted as saying.
ESA sent the Trace Gas Orbiter and the Schiaparelli test lander to the Red Planet as part of the first stage of the ExoMars mission earlier this year to look for signs of life, according to a report by Ellen Powell of The Christian Science Monitor.
Powell wrote that Schiaparelli crashed on the surface of Mars in October due to a software glitch that detached the lander from its parachute and ESA expects the Trace Gas Orbiter to remain in orbit for seven years.