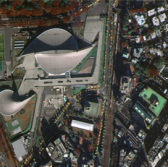 DigitalGlobe has unveiled the first public image from the Lockheed Martin-built WorldView-4 satellite that carries a Harris-made imaging payload.
The image was taken on Nov. 26 and features the Yoyogi National Gymnasium in Shibuya, Tokyo which will host Olympic events in 2020, DigitalGlobe said Friday.
Lockheed's commercial launch services segment provided a United Launch Alliance Atlas V rocket to launch WorldView-4Â in November.
WorldView-4 is designed to more than double DigitalGlobe's capacity to collect 11.8-inch commercial satellite imagery and help grow the company's 16-year, time-lapse image library.
Harris said Friday the satellite orbits at 383.4 miles above earth and travels at 17,000 miles per hour to capture approximately 262,549 square miles of the Earth's surface every day.
Walter Scott, founder, executive vice president and chief technology officer of DigitalGlobe, said Harris has provided Earth imaging instruments for DigitalGlobe since the geospatial services provider launched its IKONOS commercial imaging satellite in 1999.
WorldView-4 works to support global security, transparency, global humanitarian response efforts and location-based applications and mapping services, DigitalGlobe noted.