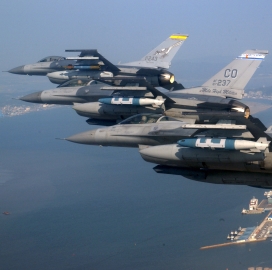 Data Link Solutions, a joint venture of BAE Systems and Rockwell Collins, has received a potential $19.4 million contract from the U.S. Navy's Space and Naval Warfare Systems Command to update tactical communication systems for the F-16 fleet of U.S. foreign military customers.
DLS said Monday it will produce Multifunctional Information Distribution System – Low Volume Terminals for the aircraft program's Link 16 infrastructure.
MIDS-LVT is designed to provide real-time data communications, situational navigation, digital voice and tactical air navigation system in a crypto-secured package.
"The F-16 aircraft conducts vital air-to-air and air-to-ground missions for the air forces of our allies," said Doug Schmidt, director of DLS.
The contract includes a $7.7 million option for additional MIDS-LVT terminals and work will occur in Wayne, New Jersey, and Cedar Rapids, Iowa.
The San Diego, California-based MIDS International Program Office developed MIDS-LVT to provide a high-speed tactical data link to U.S. and NATO allies.
DLSÂ supplies Link 16 terminals and software and performs logistics and support services for air, land and sea-based platforms.