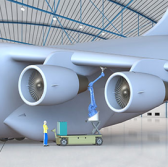 The U.S. Air Force has awarded a $6.7 million contract to a team comprised of Boeing, Southwest Research Institute and the National Center for Defense Manufacturing and Machining to help the military branch develop software and technology for a multi-process robotic system.
SwRI said Wednesday the team aims to build and demonstrate a mobile robotic platform that will work to support various aircraft manufacturing and maintenance processes under the Air Force Research Laboratory's Advanced Automation for Agile Aerospace Applications program.
"One of our primary goals is to promote the adaptability and flexibility of robotic systems," said Rick Meyers, program manager for automation and robotics at AFRL's materials and manufacturing directorate.
NCDMM will oversee the four-year effort while Boeing will provide equipment for automation development such as mobile robotic platforms, robotic manipulators, machine shop and production aircraft materials for development and testing, SwRI added.
SwRI will build a software through the open-source Robot Operating System Industrial platform and integrate subsystems on a mobile manipulator robotic platform.
The program's first phase will develop adaptive robotic functions in aircraft sanding while phase two will apply those functions to composite aircraft repair and the third phase will create nondestructive techniques through the same mobile platform, SwRI noted.