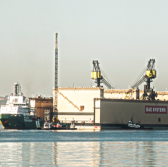 BAE Systems has transported a new dry dock to the company"™s San Diego shipyard as part of its $100 million investment to support the U.S. Navy"™s fleet repair efforts on the West Coast.
The Posh Terasea Eagle ship towed the 55,000-lifting-ton floating dry dock to the shipyard, where it will undergo testing, installation, final assembly and certification, BAE said Thursday.
Joe Campbell, vice president and general manager of BAE Systems ship repair unit, said there are two dry docks now in the shipyard as part of the company"™s effort to modernize and maintain the Navy"™s warships.
The dry dock is scheduled to be operational in 2017 and built to lift amphibious assault ships, auxiliary ships, cruisers, destroyers, littoral combat ships, transport dock and dock landing ships and select commercial vessels.
The dry dock will service first the San Diego-homeported amphibious transport dock ship USS New Orleans.