AeroVironment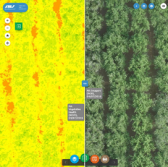 and California State University in Fresno have commenced a year-long research effort to determine how the use of unmanned aerial vehicle imagery and analytics can help detect levels of water stress in almond trees.
The company said Wednesday that it will deploy a Puma UAV equipped with a 24-megapixel photogrammetric camera and six-channel multispectral sensor to capture data from orchards managed by the university's agricultural laboratory.
The project will run through August 2017 and aims to study the correlation between aerial multispectral and hydration data related to water stress.
AeroVironment said research findings will help almond producers make decisions regarding water and crop management.
"Working closely with the plant science experts at Fresno State's globally recognized Jordan College of Agricultural Sciences and Technology, we look forward to developing a reliable and effective means of correlating multispectral data with almond tree hydration data to provide growers with better insight," said Jon Self, vice president of AeroVironment's commercial information solutions business.