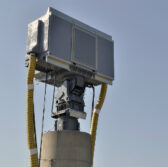 A new Visiongain report analyzes the global military radar systems market and predicts it will hit $9.7 billion in revenues in 2016.
The report highlights the key drivers and challenges facing the market and contains market forecast and analysis for the Asia-Pacific, South America, Europe, Middle East and Africa, Central Asia and North America regions from 2016 to 2026, ReportBuyer said Wednesday.
Visiongain also provides forecast for the military radar systems submarket between 2016 and 2026 covering airborne systems, land-based systems and naval systems.
The report also examines the factors that drive the growth in the global, regional country level military radar systems markets during the forecast period.
Visiongain includes profiles of 13 global military radar systems companies in 2016 in the report.
The report also incorporates interviews with Timothy Burbey, president of Blueshift Materials; Simon Collins, senior product manager ECPS at ADLINK Technology; and Mark Radford, CEO of Blighter Surveillance Systems Ltd.