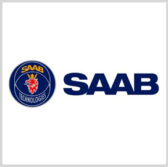 Saab has been awarded an estimated $13.2 million contract to supply helmet mounted display systems to Sweden's defense material agency.
Pilots of the Swedish air force's Gripen E fighter aircraft will use the Targo system to detect, track, identify and engage air and ground targets, Saab said Monday.
AEL Sistemas will manufacture the Targo helmets and Saab will commence delivery of the items in 2022 through 2026.
"By aiming the head rather than the entire aircraft at the target, I can rapidly lock sensors and missiles on to the target and thus use the full performance of the missile," said Hans Einerth, wing commander flying at Saab.
"This makes it possible to shoot the missile instantaneously after target detection and identification, with eyes on target constantly," added Einerth.
Targo also features night cueing and display systems for Gripen pilots.