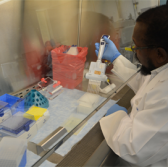 Birmingham, Alabama-based nonprofit institution Southern Research has won a position on a potential five-year contract to help the National Cancer Institute study the pharmacokinetic attributes of antitumor agents.
Southern Research said Monday it will compete for task orders with four other contractors that won spots on NCI"™s indefinite-delivery/indefinite-quantity contract.
"Southern Research has worked closely with the NCI for more than 30 years, and we are proud to continue those efforts in this program defining the pharmacokinetics of the next generation of anticancer medications," said Art Tipton, president and CEO of Southern Research.
Under the contract, Southern Research will examine in-vivo tumor models, investigate a candidate compound"™s bioanalytic composition and analyze the movement of experimental compounds in a living system in support of NCI"™s division of cancer treatment and diagnosis.