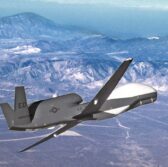 A fresh Research and Markets report suggests a growing demand for data in commercial applications will help buoy the global unmanned aerial vehicle market to reach $21.23 billion by 2022 from $5.97 billion in 2016.
The report predicts the global drone market will grow at a compound annual growth rate of 20 percent from 2016 through 2022, spurred by data demand and anti-terrorism campaigns across the world, Research and Markets said Wednesday.
The UAV market is segmented into North America, Asian Pacific, Europe and other parts of the world, with the North American region accounting for the largest market share of UAVs.
According to the report, the U.S. represents nearly 65.53 percent of the global drone market in 2015 while Israel, China and India are the key driver for the Asia pacific region.
The report profiles a number of companies such as:
3Dr
Aerovironment
Bae Systems
DJI
Dronedeploy
Elbit Systems
Flir Systems
Israel Aerospace Industries
Leonardo Spa
Lockheed Martin
Northrop Grumman
Parrot Sa
Precisionhawk
Thales