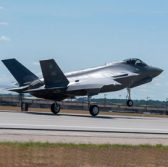 Lockheed Martin has begun to work with President-elect Donald Trump's transition team on the F-35 Lightning II fighter aircraft and other programs, Star-Telegram reported Thursday.
Max Baker writes Orlando Carvalho, executive vice president of Lockheed"™s aeronautics, said the company aims to provide information that can help the transition team make decisions regarding the F-35 program.
"As we've done in every previous election, you work with the new administration, you work with the transition team as they develop their plans," Carvalho told the publication.
He added Lockheed works with the F-35 program office to address contract negotiation issues.