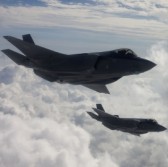 Israel plans to buy an additional 17 Lockheed Martin-built F-35 aircraft for an undisclosed sum under a third order that brings the country's procurement commitment with the U.S. government to 50 fighter jets, Defense News reported Sunday.
Barbara Opall-Rome writes Prime Minister Benjamin Netanyahu and his cabinet approved on Sunday the F-35 acquisition package, which industry and defense sources say could be worth more than $2.5 billion.
The approval of the third procurement package comes two weeks after Lockheed selected Elbit Systems to provide support services for the F-35 training center of Israel's air force.
According to the report, the training center at Nevatim Air Base will support aircraft deployment efforts as Israel expects to receive the first of 33 F-35A jets in December.