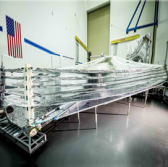 NeXolve has built and delivered the fifth sunshield layer for NASA's James Webb Space Telescope to Northrop Grumman's aerospace campus in Redondo Beach, California.
NASA said Tuesday Northrop will integrate final flight layers into the telescope's sunshield subsystem to support folding and deployment tests as part of the final system validation process.
Northrop designed the telescope's, optics and spacecraft bus as the JWST prime contractor.
The sunshield is built to protect the observatory's infrared sensors against background heat from the sun and its layers will work to reduce temperatures between the hot and cold sides of the telescope by approximately 570 degrees Fahrenheit, NASA noted.
Jim Flynn, Webb sunshield manager at Northrop's aerospace systems business, said the sunshield will aid the telescope's mission to provide imaging of the formation of stars and galaxies more than 13.5 billion years ago.
Flynn added the delivery of the fifth flight sunshield membrane serves as a milestone ahead of the space observatory's planned 2018 launch.
JWST, the successor to the agency's Hubble Space Telescope, and its sunshield will be folded "origami-style" into an Ariane 5 rocket, according to NASA.