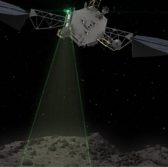 NASA's Jet Propulsion Laboratory has released a request for proposals in search of potential industry partners to design, develop and build robotic spacecraft to capture a multi-ton asteroid boulder.
NASA said in Sept. 21  it plans to award an ARM spacecraft build-and-delivery contract in 2017 as part of the space agency's Asteroid Redirect Mission and will accept responses to the RFP through Oct. 24.
Lockheed Martin, Space Systems/Loral, Boeing and Orbital ATK were selected via a competitive process to support the conceptual study phase of ARM, according to NASA.
The agency added that the robotic segment of ARM seeks to demonstrate solar electric propulsion, autonomous precision proximity and controlled touchdown and liftoff capacity as well as perform mission operations and spacewalk activities for sample selection, extraction, containment and return.