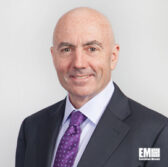 Mark Testoni, president and CEO of SAP National Security Services, has said companies should invest in development programs that will work to address the mismatch between veterans' skills and civilian job requirements.
Testoni wrote in an opinion piece published Friday on The Huffington Post that veterans face challenges in aligning their military skills with the demands of corporate employers.
The Department of Veteran Affairs estimates 22 veterans commit suicide everyday and many of these veterans were underemployed or worked in lower skill requirement positions in service industries, Testoni noted.
"The types of innovative programs needed to bridge the military-civilian skills gap are around, but there is more demand for them than supply," Testoni said.
Development programs for veterans can help the government save resources that are used to address the impact of underemployment as well as produce a set of skilled and productive individuals, Testoni wrote.