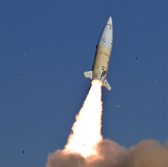 Lockheed Martin has demonstrated its first updated Tactical Missile System missile as part of a flight test conducted at the White Sands Missile Range in New Mexico.
The company used a High Mobility Artillery Rocket System launcher to fire the missile and hit a target area with a proximity sensor-equipped detonation, Lockheed Martin said Tuesday.
Lockheed manufactured the TACMS missile at its Precision Fires Production Center of Excellence in Camden, Arkansas.
Scott Greene, vice president of precision fires and combat maneuver systems at Lockheed's missiles and fire control segment, said the test confirmed the modernized TACMS retains the precision of the product line.
The TACMS platform is designed to integrate new payloads and systems based on the warfighters' requirements and the missile can be launched from various MLRS launchers.
The U.S. Army's TACMS Service Life Extension Program inventory refurbishment program also includes updated guidance electronics and features meant to hit area targets without leaving behind unexploded ordnance.