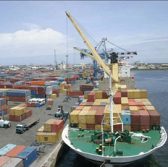 Leonardo-Finmeccanica has received a $31.8 million contract to deploy an integrated system for maritime security at the port of Pointe Noire in the Republic of Congo.
The maritime and land-based security systems will use radar and electro-optical sensors, communications systems, logistics management and port operations systems, Leonardo said Friday.
Leonardo will also provide construction of new docks and engineering and design services, as well as management of port development plans made by other companies.
The project is part of an agreement between Italy and the Republic of Congo for the development of a multi-modal integrated transport system in the Congo basin, with Leonardo as the main proponent and industrial architect of the project along with Italian State railway firm Ferrovie dello Stato Italiane.
The port's maritime surveillance will extend to the Republic of Congo"™s Exclusive Economic Zone through radar sensors and a secure telecommunications network under the project's second phase.