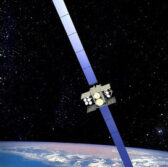 General Dynamics"™ mission systems business in Canada has placed a $1.2 million order for a Comtech Telecommunications-built universal satellite modem to support Canada"™s armed forces.
Comtech said Thursday its Comtech EF Data Corp. subsidiary will manufacture DMD2050E WGS-certified universal satellite modems for Canada's Mercury Global project to connect soldiers with wideband military satellite communications.
Three anchor sites located in Eastern, Central and Western Canada are also built to connect the nine-satellite Wideband Global SATCOM constellation to existing CAF communications infrastructure.
Canada"™s defense department selected General Dynamics in November 2014 to develop and support three communications stations that would connect the country"™s armed forces to the Wideband Global SATCOM satellite constellation.