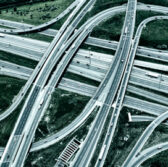 Express Mobility Partners, a consortium of four companies, has been selected to fund, design, build and operate express lanes on Interstate 66 in northern Virginia.
Virginia Gov. Terry McAuliffe said in a news release posted Thursday the state received two bids for the I-66 Outside the Beltway project and made the selection through the state's updated public-private partnership process for procurement.
Express Mobility Partners is composed of Cintra, Allan Myers VA, Ferrovial Agroman US and Meridiam and will make an upfront payment of $500 million to the state to fund additional modifications to the I-66 corridor.
The consortium will also provide $800 million to support the development and operation of transit projects in I-66 and another $350 million to the Northern Virginia Transportation Authority to fund congestion reduction efforts in the corridor over the next 50 years.
The I-66 project covers the development of 13 new transit routes and over 4,000 park-and-ride lots.
The Virginia Department of Transportation is scheduled to ink an agreement on the project with Express Mobility Partners in December.
The consortium plans to begin construction work on the I-66 corridor in 2017 and open the new express lanes by mid-2022.