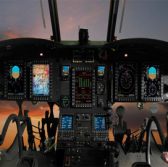 Rockwell Collins has secured a five-year contract to repair up to 1,910 common avionics architecture system units currently installed in the U.S. Army"™s CH-47F helicopters.
The company's cockpit equipment features the Flight2 system comprised of various  communications, navigation and mission subsystems, Rockwell Collins said Wednesday.
Thierry Tosi, vice president and general manager of service solutions at Rockwell Collins, said the company will sustain and support the Army"™s mission critical avionics under the follow-on contract.
A team of Rockwell Collins technicians will perform work at the company"™s Atlanta Service Center with the use of in-house test equipment and repair parts.
CAAS was installed on the CH-47F aircraft in 2007 and was also used for the Special Operations Forces' MH-47 and MH-60 helicopters as well as MH-60T, MH-65E, VH-60N, CH-53K and Chinook platforms.