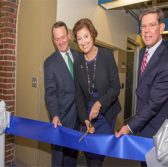 Mitre Corp. and Worcester Polytechnic Institute have launched a joint collaboration space inside WPI"™s campus as part of a partnership that aims to help students, faculty and Mitre employees perform collaborative projects.
WPI"™s Julia Quinn-Szcesuil wrote in a blog post published Wednesday the Mitre-WPI Collaboratory will provide resources to students that conduct major qualifying project and to faculty members that perform other endeavors.
"We have resources from Mitre and WPI, and now we have a place where Mitre people can go to when they are on campus," said Alex Wyglinski, director of the Collaboratory and the project center and associate professor of electrical and computer engineering.
Wyglinski added that Collaboratory will accommodate eight-to-ten projects for use of the the space and shared resources.
Wyglinski expects the launch of the collaborative space to open opportunities for students to conduct projects along with Mitre personnel and land a job after graduation.
The facility is also intended to help students conduct Independent Study Projects during their early years at WPI through access to equipment that are usually slated for later-stage use in the campus.