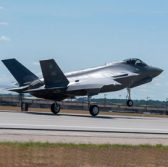 The Defense Department has granted regional F-35 maintenance, repair, overhaul and upgrade capacity to partner nations that will support 65 out of 774 repairables outside the continental U.S.
Lockheed Martin, the F-35 prime contractor, said Monday the U.K. will oversee 48 of the 65 F-35 components while Netherlands will handle 14 and Australia will manage three of the components for global repairs from 2021 to 2025.
The F-35 Joint Program Office based the assignments on data gathered from partner nations, foreign military sales customers and other industries as well as other regional considerations including forward basing, aircraft phasing, and transportation.
"This is the first of many opportunities we will have to assign F-35 global sustainment solutions for component repair work ," said Lt. Gen. Chris Bogdan, F-35 program executive officer.
"As international F-35 deliveries increase and global operations expand, support provided by our international F-35 users becomes increasingly more important."
The joint program office also assigned global repair assignments for 2025 and beyond to the European and Pacific regions and the assignments cover approximately 8 percent of total amount of repairable work.