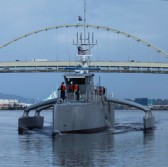 The Defense Advanced Research Projects Agency has awarded Leidos an $8.5 million contract modification to extend the testing phase of an unmanned vessel the company developed for tracking underwater threats.
Leidos will perform tests as part of DARPA's Anti-Submarine Warfare Continuous Trail Unmanned Vessel program, the Defense Department said Thursday.
Work is scheduled to complete work under the modification in December 2017.
DARPA allocated $275,511 in fiscal 2017 research and development funds at the time of award.
ACTUV is an unarmed vessel designed to track, identify and predict the behavior of underwater threats such as diesel-electric submarine at extended periods of time.