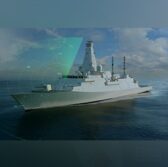 BAE Systems PLC plans to start manufacturing anti-submarine warfare ships for the U.K. navy in 2017 after the conclusion of final contract negotiations with Britain's defense ministry.
The company said Friday Britain hascommitted to eight Type 26 Global Combat Ships to replace Type 23 frigates in the "2015 Strategic Defence and Security Review" and the country has invested $2.4 billion in the program to date.
BAE is working with 27 companies to deliver Type 26 ships and produce air weapons handling systems, gas turbines and electric propulsion motor and drive systems.
Australia and BAE signed a contract in September to update Type 26's design to help meet the requirements of Australia"™s navy as part of that country's SEA 5000 Future Frigate program.
The U.K. has also awarded a contract to BAE to build the Maritime Indirect Fire System of the first three ships which includes 5-inch, 62-calibre Mk 45 gun.
MBDA received a contract from the U.K. defense ministry to provide Sea Ceptor self-defense missile systems for the Type 26 fleet.
Type 26 ships will support various missions such as warfare and humanitarian assistance and will operate independently or as part of a task group, BAE noted.
BAE added U.K. is set to finalize a contract to build two more offshore patrol vessels which will add to the first three River Class OPVs that the British defense company currently develops.