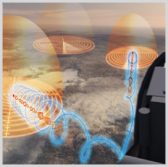 BAE Systems has received a $13.3 million contract modification from the Defense Advanced Research Projects Agency to continue support for DARPA's program that aims to develop electronic warfare technologies that will counter new, unknown and adaptive radars.
BAE said Thursday its team will complete algorithm development, advanced readiness tests and key milestones in efforts to transition technologies from DARPA's Adaptive Radar Countermeasures project to airborne warfare platforms such as fighter jets.
Louis Trebaol, ARC program manager at BAE, said the company demonstrated the technology's capacity to characterize and adaptively counter advanced threats in a test environment under the second phase of the program.
Trebaol added that BAE aims to mature the technology and test it against radars in the U.S. inventory during ARC's third phase.
The modification brings the total value of the ARC contract to $35.5 million and work will occur at the company's  facilities in New Hampshire and Massachusetts.
The ARC program seeks cognitive EW technologies that apply signal processing, intelligent algorithms and machine learning techniques to generate electronic countermeasures against unknown hostile radar signals.
BAE said current EW systems rely on a database of known threats with preprogrammed countermeasures that limit ability to adapt to new and advanced threats.