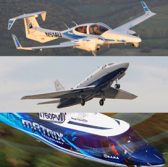 Lockheed Martin's Sikorsky subsidiary and Aurora Flight Sciences have developed robotic systems that are designed to operate aircraft autonomously as part of the Defense Advanced Research Projects Agency's Aircrew Labor In-Cockpit Automation System initiative, Defense News reported Wednesday.
Valerie Insinna writes Jean Charles-Lede, program manager at DARPA's tactical technology program office, said the ALIAS program seeks a platform that can eliminate the current need for two pilots aboard manned aircraft.
Sikorsky and Aurora performed flight demonstrations of their respective systems in October and DARPA will select a single vendor to proceed with the program's third and final phase, Insinna reports.
Jessica Duda, ALIAS program manager at Aurora, said the company's platform features a robotic arm that works to operate aircraft physically to help human pilots focus on cognitive tasks and address problems that require human troubleshooting, the report stated.
Igor Cherepinsky, autonomy programs director at Sikorsky, said the company's system is designed to eventually replace human pilots and let customers decide whether they want two, one or no pilots onboard.