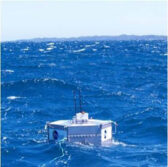 AquaHarmonics has won a $1.5 million grand prize in the Energy Department's design-build-test competition that aims to support the development of wave energy converters.
DoE said Wednesday CalWave Power Technologies and Waveswing America will receive $500,000 and $250,000 in respective cash prizes as second and third place winners of the Wave Energy Prize.
"This competition set a difficult threshold of doubling the energy captured from ocean waves, and four teams surpassed that goal," said Lynn Orr, DOE undersecretary for science and energy.
DOEÂ added the 18-month challenge attracted 92 teams in April 2015 that a panel of judges narrowed down to nine finalists and two alternates in March.
All finalists received up to $125,000 in funds to develop wave energy converter prototypes that were tested at the Naval Surface Warfare Center's Maneuvering and Seakeeping Basin in Carderock, Maryland, DOEÂ noted.
The department will release data from the finalists' test results to support the growth of the wave energy sector.