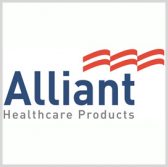 Alliant Healthcare Products has won a five-year, $41.1 million contract from the Defense Logistics Agency to supply various medical scopes and related accessories to U.S. military and federal civilian agencies.
Eighty-five offers were submitted to the DLA for the fixed-price contract through a competitive acquisition process, the Defense Department said Monday.
Work will occur in Michigan through Nov. 13, 2021.
DLA's Troop Support organization is the contracting activity and will use defense working capital funds in fiscal 2017 through fiscal 2022 for the scopes procurement.