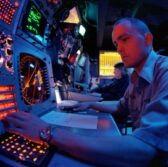 The U.S. Air Force has asked industry to provide information on new electromagnetic battle management platforms that will work to provide command-and-control and situational awareness functions for warfighters.
The U.S. Strategic Command's joint electronic warfare center seeks EMBM systems that are expected to achieve technology readiness levels 7 and 8 over the next five years, the service branch said in a FedBizOpps notice published Nov. 7.
Interested vendors should submit information on EMBM platforms based on functional requirements that include electronic order-of-battle presentation, simulation, modeling, policy-based spectrum management and course of action analysis.
The military branch is also interested in EMBM systems that will work to provide warfighting functions across ground, aerial, maritime, cyber and space domains.
Responses to the request for information are due Dec. 2, according to the notice.