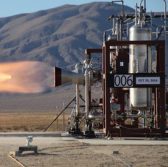 Aerojet Rocketdyne has conducted a series of hot-fire tests on two launch abort engines that include new propellant valves for the propulsion system of Boeing's Crew Space Transportation-100 Starliner service module.
The tests were conducted in Mojave Desert, California to validate the fuel valve and oxidizer valve's capacity to regulate propellant flow and peak LAE thrust in case of a launch abort, Aerojet Rocketdyne said Monday.
Aerojet Rocketdyne developed and tested the LAEs as part of a subcontract with Boeing to support the development of Starliner spacecraft that NASA will use to transport U.S. astronauts to the International Space Station.
The deal with Boeing covers propulsion system hardware which includes LAEs, orbital maneuvering and attitude control thrusters, reaction control system thrusters and others, Aeroject Rocketdyne noted.
The subcontractor will also carry out hardware supporting service module hot-fire testing, pad abort and system qualification testing and orbital flight test.
Boeing will integrate the propulsion hardware kits into Starliner's service module component at its Commercial Crew and Cargo Processing Facility at NASA's Kennedy Space Center in Florida.
Starliner's service module propulsion system is designed to feature launch abort function on the pad and during ascent as well as propulsion needs throughout the flight, Aerojet Rocketdyne said.
The propellant for the launch abort propulsion system will be used for the spacecraft's operations if mission abort does not occur, Aerojet Rocketdyne added.