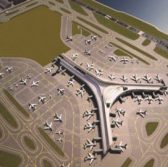 AECOM has received a contract to provide design consultancy services for Hong Kong International Airport's new passenger building as part of the Three-runway System expansion project.
The company said Monday it will perform research and benchmarking studies on potential information technology and airport systems, retail and advertising trends for the Third Runway Passenger Building's design team.
"We look forward to leveraging our connected expertise to deliver designs for this major project as well as the airport"™s Terminal 2 Expansion for which we were awarded consultancy work earlier," said Sean Chiao, AECOM Asia-Pacific president.
Paul Sankey, vice president of aviation at AECOM Hong Kong, said the company's team will utilize their technical knowledge and airport design and engineering experience to help provide a design with a possible on-schedule implementation.
The Third Runway Passenger Building is designed with an estimated floor area of 3 million square feet that will feature 57 aircraft parking positions in an effort to accommodate 30 million passengers annually in conjunction with the modified terminal 2.