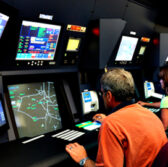 The Federal Aviation Administration has awarded Verocel a $2.8 million contract for 50 safety computers to support an FAA air navigation tool that aims to augment the GPS system.
Verocel said Tuesday it will develop, design and build certification evidence and infrastructure software for the computers.
The company will partner with Curtiss-Wright and Atrenne Integrated Solutions to provide the commercial off-the-shelf hardware components for the computer's hardware platform.
"Our rugged open architecture VME-183 single board computer modules help to lower the cost of ownership for the WAAS system through the use of COTS technology," said Lynn Bamford, senior vice president and general manager at Curtiss-Wright's defense solutions division.
The platform is intended as a replacement for existing safety computers under the Wide Area Augmentation System's operational baseline and will work to address the present and future resource capacity requirements of the WAAS architecture.
George Romanski, Verocel president, said the company will also design and evaluate software and hardware.
WAAS aims to advance GPS accuracy, integrity and availability and is part of the FAA's Next Generation Air Transportation System.
The system is deployed across 1,812 airports to help give aircraft precision guidance information in all weather conditions.