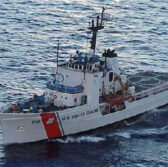 The U.S. Coast Guard has selected Fairbanks Morse to produce diesel propulsion engines for the military branch's offshore patrol cutter that is scheduled for sea deployment in 2021.
Fairbanks Morse said Wednesday it will build FM-MAN 16V 28/33D diesel engines for the first OPC vessel that Eastern Shipbuilding Group will build for the Coast Guard.
The 360-foot-long cutter will be built to provide a capability bridge between the National Security Cutter and the Fast Response Cutter as the service branch performs search and rescue, law enforcement, homeland security and defense missions.
Fairbanks Morse President Marvin Riley noted that the company has provided engines for propulsion and shipboard power to the U.S. armed forces for more than 90 years.
The Coast Guard expects to receive nine OPCs from Eastern Shipbuilding and plans to procure an additional 25 cutters to replace the branch's legacy fleet of Medium Endurance Cutters.