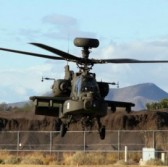 The State Department has approved Egypt's request to procure Common Missile Warning Systems from the U.S. under an $81.4 million foreign military sales agreement.
BAE Systems and DynCorp will serve as the prime contractors on the deal that covers  67 AN/AAR-57 CMWS units for integration onto AH-64E Apache, UH-60 Black Hawk and CH-47 Chinook helicopters, the Defense Security Cooperation Agency said Friday.
The FMS transaction will also include installation mounting kits, a countermeasure dispenser test set, publications, technical assistance, training and quality assurance services.
DSCA noted the Egyptian Air Force will install the CMWS on the military branch's multimission helicopters to detect infrared missile threats.
CMWS is a modular laser-based infrared protection system built to defend helicopters and light fixed-wing aircraft against shoulder-fired and heat-seeking missiles threats.