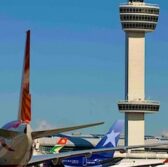 Rockwell Collins has received a contract of an undisclosed value from International Airlines Group to replace the current check-in platform at John F. Kennedy International Airport's Terminal 7.
Rockwell Collins said Tuesday it will provide its ARINC vMUSE common use passenger processing technology that works to assist check-in for passengers and baggage.
The company will also deliver its ARINC AviNet network and message system that is designed to facilitate communications in support of airline operations.
International Airlines Group operates 541 airplanes that transport nearly 95 million passengers to 274 destinations each year.