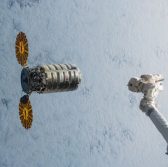 The Orbital ATK-built Cygnus spacecraft has arrived at the International Space Station to deliver approximately 5,300 pounds of crew supplies, scientific experiments and laboratory equipment.
The S.S. Alan Poindexter space vehicle reached ISS Sunday and completed berthing procedures seven days after it launched from NASA's Wallops Flight Facility in Virginia to mark Orbital ATK's sixth cargo delivery mission to the ISS under the Commercial Resupply Services contract, Orbital ATK said Sunday.
The OA-5 mission "marked the return to our home base of operations at the Mid-Atlantic Regional Spaceport, where we launched our Cygnus spacecraft atop our upgraded Antares vehicle to deliver critical cargo to the International Space Station," said Frank Culbertson, president of Orbital ATK space systems group and an inductee into Executive Mosaic's Wash100 for 2016.
"Following our departure from the station, we will again use Cygnus as a platform to conduct scientific experiments for key customers," Culbertson added.
Astronauts captured the space vehicle at 7:28 a.m. Eastern time through the use of a robotic arm and maneuvered the spacecraft to its berthing port at the bottom of the space laboratory's Unity module.
The spacecraft will stay at the ISS for about one month before it launches the Spacecraft Fire Experiment-II, releases Cubesats through the use of a NanoRacks-built deployer platform and leaves for Earth with approximately 4,000 pounds of disposable cargo from the orbiting laboratory.
Orbital ATK also noted that it will perform at least six cargo flights to the ISS under the CRS-2 contract with NASA.