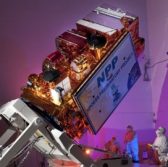 A satellite that Ball Aerospace built for NASA and the National Oceanic and Atmospheric Administration marked five years in orbit on Oct. 28.
Ball Aerospace partnered with NASA's Goddard Space Flight Center to design and develop the Suomi National Polar-orbiting Partnership satellite that works to provide three-dimensional humidity and temperature data to the Defense Department and National Weather Service, the company said Friday.
"We built Suomi NPP from our Ball Configurable Platform spacecraft line, which consists of satellites designed to meet a wide variety of mission requirements, from smallsats with plug-and-play interfaces to fully customizable large spacecraft for deep space missions," said Rob Strain, president of Ball Aerospace.
The Suomi NPP satellite is designed to measure cloud properties and track the Earth's stratospheric ozone layer, sea ice and wildfires to help NASA and NOAA study climate trends and perform environmental forecasting operations.
The company also built the Ozone Mapping and Profiler Suite that launched onboard Suomi NPP in October 2011.
Ball Aerospace has begun development work on the Joint Polar Satellite System-1, a weather satellite platform that is scheduled for launch in 2017.