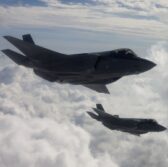 Lockheed Martin Chairman, President and CEO Marillyn Hewson has said her company and its partner Mitsubishi Heavy Industries have jointly responded to Japan's request for information on stealth fighter aircraft in August, Nikkei reported Saturday.
Sam Nussey writes that Japan is considering whether to develop new aircraft domestically, tap foreign defense companies or just procure additional fighters in the marketplace to replace the country's aging fleet of F-2 jets.
The report said the Japanese ministry of defense expects to release a second RFI document by the end of March 2017 and hand down a final decision in fiscal 2018.
"We will definitely respond [to this request], we will be a part of that process," Hewson, an inductee into Executive Mosaic"™s Wash100 for 2016, told Nikkei in an interview.
Nussey said Boeing also sought to partner with MHI on a potential F-2 replacement for Japan.