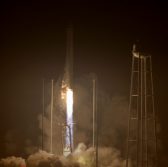 An Orbital ATK-built spacecraft lifted off Monday onboard the company's updated Antares 230 rocket to deliver more than 5,100 pounds of scientific instruments and crew supplies to the International Space Station.
NASA said Monday the Cygnus spacecraft's launch from Wallops Flight Facility in Virginia marks Orbital ATK's sixth cargo delivery mission to the ISS under the Commercial Resupply Services contract and the first Antares rocket launch from Wallops since the October 2014 explosion.
Cygnus, also known as S.S. Alan Poindexter, is expected to reach the space laboratory on Oct. 23 and Expedition 49 astronauts Kate Rubin and Takuya Onishi will use a robotic arm to capture the vehicle.
The space vehicle carries scientific equipment for use in several experiments that include the Cool Flames investigation that seeks to study the combustion of fuels and additives in space and the Lighting Effects experiment that aims to test the effect of a new lighting platform on the crew's daily rhythms and sleep patterns.
Orbital ATK said Monday the spacecraft will stay at the space laboratory for about one month before it leaves for Earth with approximately 3,700 pounds of disposable cargo from the ISS.
The company also noted that Cygnus will also carry a NanoRacks-built platform that works to deploy Spire Cubesats designed for use in weather forecasting operations.
Orbital ATK said it will start to perform at least six cargo flights to the ISS in 2019 under the CRS-2 contract with NASA.