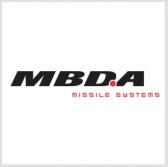 An MBDA subsidiary has submitted its bid to Germany's government in pursuit of a contract to develop that country's future ground-based air defense system.
MBDA Deutschland GmbH said Thursday TLVS will be based on the Medium Extended Air Defence System and equipped with 360-degree coverage, open system architecture and a plug and flight function to support civilians and warfighters during local and international missions.
"The offer presented to BAAINBw is the result of a detailed analysis and negotiation process with our partners and suppliers," said Thomas Gottschild, managing director of MBDA Deutschland.
"It is based on the request for proposals we received at the end of February 2016 and forms the basis for negotiations with the German customer," he added.
According to MBDA, Germany's parliament will review a negotiated and finalized contract for the system by Spring 2017.