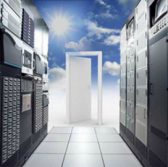 A MarketsandMarkets report forecasts a compound annual growth rate of 25.6 percent for the global cloud computing in education market over the next five years.
The 151-page report estimates that revenue for education-related cloud computing products and services will reach $25.36 billion by 2021 from $8.13 billion in 2016, the RnR Market Research said Oct. 6.
Public cloud deployment type is projected to account for the largest market share this year due to the growing adoption of web and mobile applications, the report noted.
MarketsandMarkets also predicts that the platform-as-a-service model will have the highest growth rate among cloud delivery platforms over the five-year forecast period since PaaS applications do not require constant updates.
The adoption of cloud services by Asia-Pacific educational organizations will trigger industry growth in the region, the report noted.
Key market players mentioned in the report include Adobe System, Cisco, IBM, VMware, Microsoft, NetApp, Amazon Web Services, Ellucian and NEC.