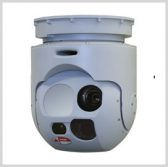 L-3 Communications has introduced an electro-optical/infrared airborne imaging system designed to integrate with small tactical unmanned aerial vehicles, light manned ISR aircraft and tactical aerostats.
The MX-8 system works to process images in real time and simultaneously support up to four sensors, the company said Monday.
L-3's WESCAM division developed the airborne imaging technology.
The 15-pound system has a clearance level of less than 11 inches and features the geolocation offerings of the company's larger MX-Series systems, the company added.
Michael Strianese, L-3 chairman and CEO, said the company aims to help address the smaller form factor requirements of global customers with its imaging products.