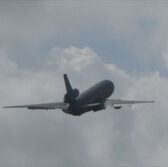 A division of L-3 Communications has begun to provide logistics support services for the U.S. Air Force's KC-10 aerial refueling aircraft under a potential nine-year, $1.9 billion contract awarded in June.
L-3 said Tuesday its Vertex Aerospace division commenced work after the Government Accountability Office rejected a competitor's protest to the contract award.
Madison, Mississippi-based Vertex Aerospace will maintain and operate base supply, provide field service representative and support depot maintenance for 59 USAF KC-10 tankers.
The unit will also provide base supply operation and field service representative to the aerial refueling system for Netherland's two KDC-10 aircraft.
Michael Strianese, L-3's chairman and CEO, said the contract also offers the company an opportunity to support the Air Force and one of the military branch's international ally through engineering innovation and services.
The indefinite-delivery/indefinite-quantity contract includes a six-month phase-in period that began on Sept. 27.