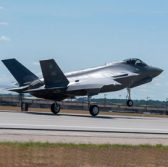 Lockheed Martin has awarded Kitron a multimillion dollar contract to provide integrated backplane assembly for F-35 jets under low-rate initial production lot 11.
Kitron said Tuesday it will manufacture, test, maintain and repair the IBA in F-35s as part of the manufacturing license agreement with Lockheed.
"After years of supplying for the earlier stages of the low rate initial production program, it is good to see the volume increase to the quantities expected for full rate production," said Hans Petter Thomassen, managing director of Kitron's business operations in Norway.
The company is scheduled to begin IBA deliveries for F-35 LRIP 11 this year and continue through 2018.
Kitron offers development, industrialization, maintenance and repairs, manufacturing and sourcing services for clients in the aerospace, defense, energy, marine, medicine and telecommunications market sectors.