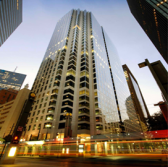 Jacobs Engineering Group has relocated its global corporate headquarters to a 100,000-square-foot office in downtown Dallas from Pasadena, California.
The company said Monday the relocation expands its footprint at Dallas' Harwood Center in Texas, where Jacobs currently employs nearly 4,500 individuals who work in the aerospace, transportation, water, aviation, buildings, defense, oil and gas and power and energy industries.
Jacobs Chairman and CEO Steve Demetriou said the company seeks to maintain its workforce and office footprint across the state of California after the relocation.
Demetriou along with other executives recently moved to Dallas, where the company has had a presence since 1987.
He added the new HQ location can help the company access to top talent and customers throughout the city on top of the "friendly economic and cultural environment."