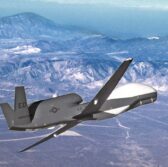 Drone Aviation will provide WATT electronic tethered drones, in-field support packages and operator flight training services to a Defense Department  component under a $400,000 contract.
The WATT unmanned aerial system is designed to provide communications and monitoring support for ISR, government, news gathering and emergency response missions in all weather conditions, Drone Aviation said Thursday.
The UAS features dual sensor electro-optical/infrared military-grade, gimbaled payloads that work to process day and nighttime videos, the company added.
Drone Aviation also equipped its WATT with Kevlar-armored ground tether in an effort to secure gathering and transmission of sensor data at an altitude of up to 400 feet.
Jay Nussbaum, chairman and CEO of Drone Aviation, said the company aims to help customers train and support users of tethered drones.
"We look forward to working closely and supporting our new customer which we believe will continue to strengthen our long-standing relationship with the DoD," Nussbaum added.