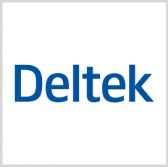 Deltek has introduced a new resource planning product the company designed to help government contracting companies manage projects and resources across the entire project lifecycle.
The new tool is designed for users to locate available resources for projects, predict future resource needs and help reduce employee turnover, Deltek said Thursday.
Deltek offers the product as part of the company"™s Costpoint Cloud suite and as a standalone application that operates with third-party resource planning tools and human capital management systems.
Namita Dhallan, executive vice president for product strategy and engineering at Deltek, said the resource planning tool is built to help government contractors plan and forecast resources needed for new projects.
"As part of Deltek"™s Costpoint Cloud, [the product] not only allows users to leverage historical data through existing project and organization data, but also employee information such as skills, education, certifications, and security clearances," added Dhallan.